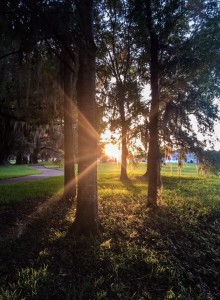 The Southwood CDD held its March 2018 meeting on March 22 at the Southwood Community Center. Highlights included:
Independence Landing
Allison Tant presented an update on the Independence Landing project, a possible new community in Southwood for persons with disabilities. The project has received initial approval from the City to be developed on an approximately 20-acre portion of a 62-acre undeveloped recreational parcel owned by the City, but there are still many steps left for the project to become a reality, including various land use and funding approvals. No funds from the CDD will be involved. The CDD has also been in discussions with the City regarding the development of a different portion of the 62-acre parcel for recreational purposes, and Chairman Kelley expressed the Board's support for Independent Landing and interest in seeing how both projects move forward.
Bond Refunding
The board approved Resolutions 2018-03 and 2018-04, the True-up Agreement, formal Tax Exempt Bond Policies and Procedures, and other necessary documents for the refunding of Series 2008A and 2011A-2 Bonds (new series 2018A-1 and 2018A-2). The bonds will close on March 29.
Park & Recreational Facilities Update
Chairman Kelley and the CDD's counsel recommended monitoring the City's fiscal year 2019 budget process for any indicators the City plans to include any park development funding.
Additional Items
The Board held a detailed discussion of the recently approved LDR-5 plat and the CDD's involvement and comments to the developer. The Board authorized Supervisor Ramba to reach out to Premier Homes and re-engage in constructive communications to consider CDD input with platting future units, especially because of the impact on common areas the CDD will maintain.
The Board discussed Unit 17 on-street parking, and Supervisor Ray circulated a proposal for a study regarding the matter. This matter will be considered on a future agenda prior to the fiscal year 2019 budget process.
The board approved Reserve Advisors' proposal to conduct a Capital Reserve Study and approved the Public Facilities Report in substantial form, authorizing appropriate revisions by counsel.
The next meeting will be on Thursday, April 12 at the Southwood Community Center. The agenda will be posted online a week before the meeting.